We have talked many times about the dream of being able to live in Menorca. This dream could take on different forms, some more and some less conventional, but few amongst you could ever have imagined planning your life in a real, but perfectly adapted cave. This is a unique and very special spot located in Cala Santandria, in a cave above the sea, some 50 metres from the beach on the north shore. It is a luxurious haven of peace and quiet, above all during winter, when the cove and this part of the island goes silent.
To understand the history of this cave house we need to talk to its owner, Gisela Offen, who says she decided to live in Menorca together with her daughter in 1975. Her husband had built the bar in the neighbouring cave and it was he who decided to fit out this cave for the family. At that time there were no hotels in the area and only two or three villas. The rest was undeveloped.
One part of the house is excavated in the natural cave but there is another part that was excavated from the rock. Its owners created sculptures in the walls of marés stone and even ended up selling some to curious tourists who passed by. The home consists of two small bedrooms, a toilet, a small kitchen and a showroom for the sculptures. There are also two terraces, one larger than the other, as well as a barbecue area. A few decades ago they also had a water store that they converted into a small room. The floor is concrete with some carvings that give it great personality. Every room has openings giving spectacular views across Mare Nostrum.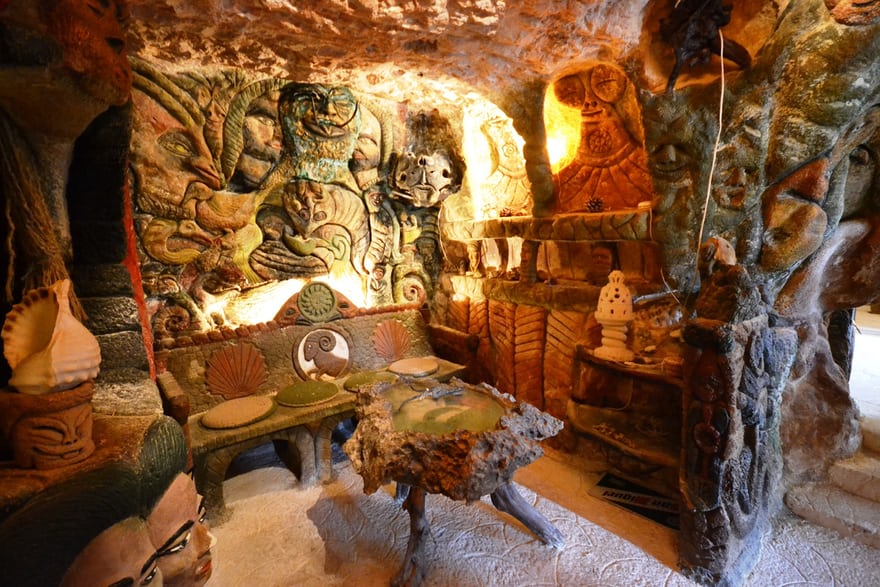 It is an ideal house for becoming inspired, above all in winter when it oozes calm, and the rays from the sun fills the house, thanks to it south-facing orientation. The internal ambience is always very pleasant since the cave, due to its nature, maintains the ideal temperature in both summer and winter. The only snag in July and August is the hubbub of the neighbouring bar.